BULK INDEX CHECKER (the most reliable one)
Why is it the most reliable tool?
1 credit = 1 URL indexing ckeck in 3 steps
Step 1 : First of all, we perform indexing check with the "site:" command,
Step 2 : If there are no results, we perform a search with the exact URL only,
Step 3 : If there are still no results, the URL is considered not indexed.
Warning: Our tool may detect an indexed URL even though it is not indexed for you. This is generally normal because not all datacenters are synchronized in the same way and some are ahead. It generally takes 24/48H for a URL to be synchronized on all datacenters. It is for this reason that we are doing the test in our verification stages on 2 datacenters.
The most appreciated features of our users
Unlimited projects and URLs
Create unlimited projects and manage the indexing tracking of each website, page or backlink.
Indexing history
You have the indexing history for your projects AND for the URLs of your projects. The perfect way to detect the quality of URLs or a website over time.
Indexing request
You can directly send non-indexed URLs to indexmenow.com (other indexing services will be added soon) by adding the API key.
No need to use proxies
You don't need proxies to check indexing status of your website pages ! No more blacklisted proxies. Just add your URLs and get the results.
Usage-based pricing
We use the pricing model "pay per use". Your credits do not expire at the end of the month. YOU do not pay for unused credits. No lost credit as this is not a subscription.
Rapports exportable
You can export the indexing results of your projects in a CSV file. You will find the list of verified URLs with project name, TITLE tag, META DESCRIPTION tag, dates and status of URLs indexing.
Robust technology
The retrieving results with the "site:" command are 4 to 5 times more complicated than a SERP recovery on a keyword. Our technology now allows you to retrieve its information by bulk without blockages.
Get real results
The data in the Google Search Console is not up to date. There is always a difference with reality. With isindexed.com, the data is treated immediately and in real time based on the search results (SERPs).
Some images of the tool to test indexed links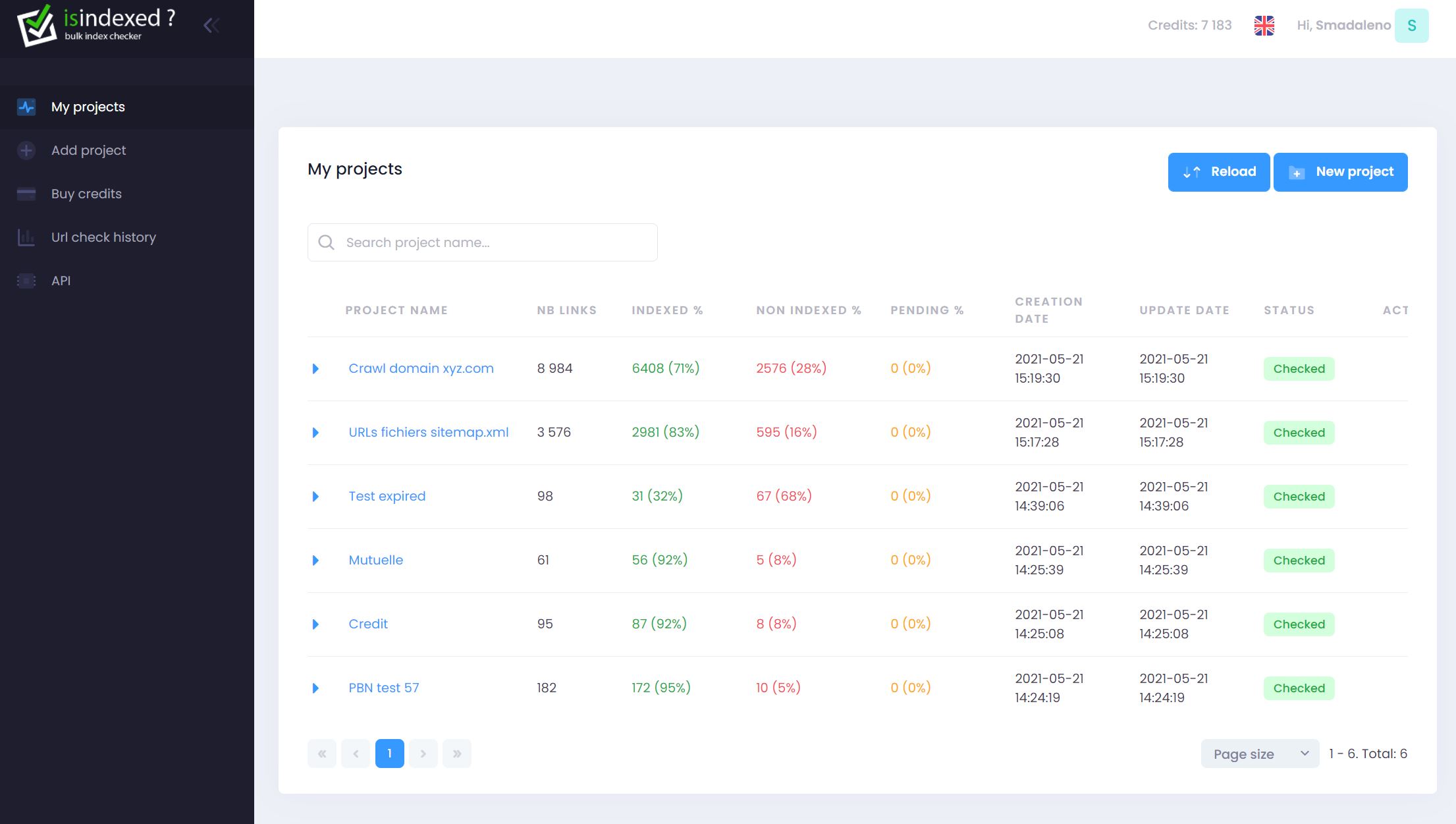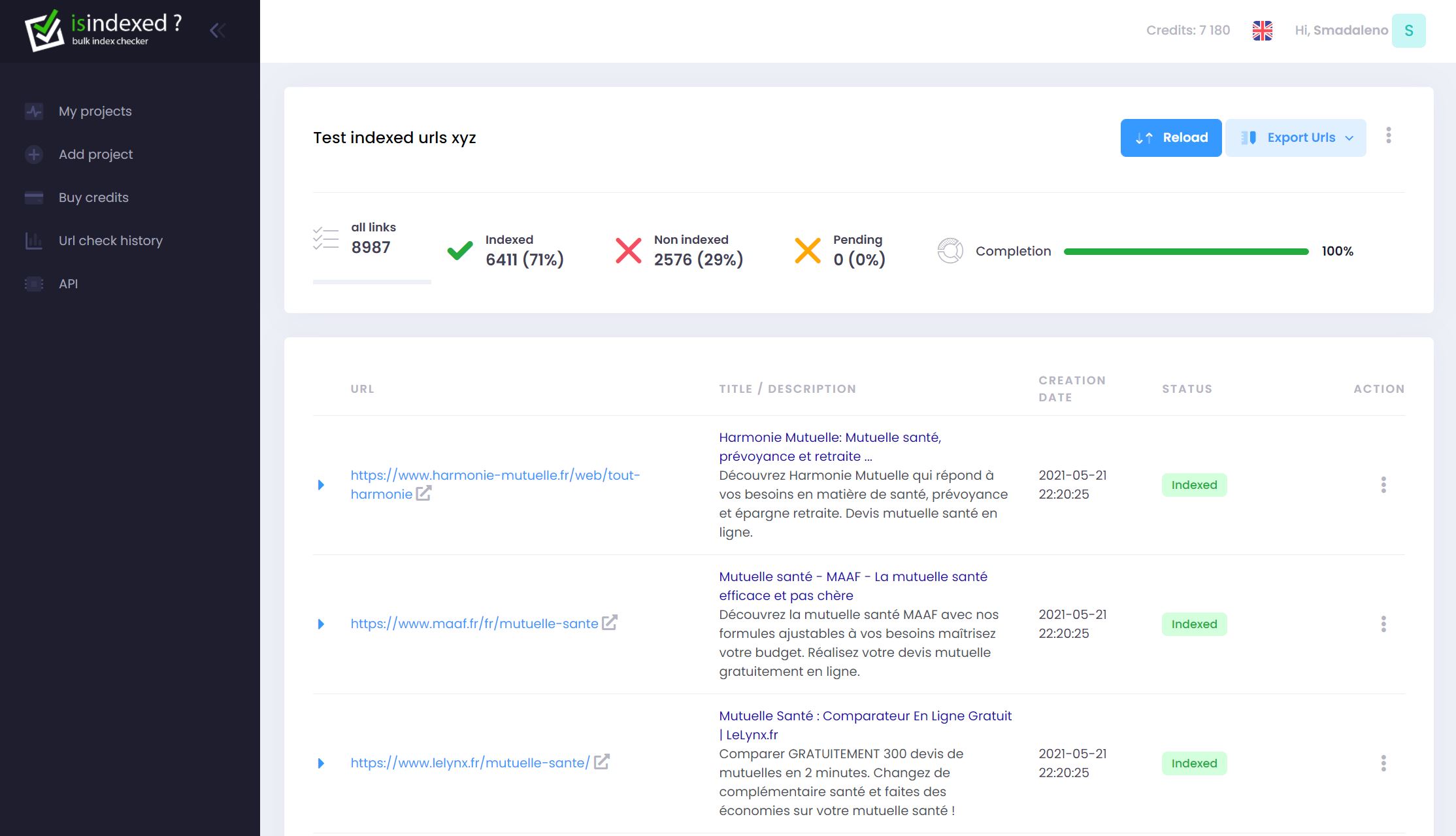 No loss of credits, you pay and spend what you consume without expiration.
10 000 credits / URLs
0.0049 $ * per check
Without subscriptions
Without engagement
* price excl. VAT
50 000 credits / URLs
0.00298 $ * per check
Without subscriptions
Without engagement
* price excl. VAT
200 000 credits / URLs
0.002 $ * per check
Without subscriptions
Without engagement
* price excl. VAT
1 000 000 credits / URLs
0.001 $* per check
Without subscriptions
Without engagement
* price excl. VAT
Examples of usage with isindexed?
"I can make a quality and complete audit for a customer. After a complete crawl with for example the tools ScreamingFrog, XENU, OnCrawl, Seolyzer… I test URLs to know if they are indexed or not. The idea is to understand why certain pages are not indexed. Recent page? Page with low quality content? Incorrect mesh? Page with a technical problem?"
"I can retrieve URLs from sitemap.xml to track indexed or unindexed URLs."
"I can check the list of indexed backlinks before buying expired domains taking into account only indexed ones. THE backlinks on unindexed pages have no value."
"It happens quite frequently that Google de-indexes pages for various reasons: poor quality texts, duplicate content, inaccessible or incorrect url, penalized site, blacklisted site. With isindexed.com, I can follow the evolution of the number of URLs indexed thanks to monitoring by project."
"I can audit the sponsored articles or partner link exchanges to check if URLs are indexed or not."
"An unindexed page brings no search engine traffic. By indexing the unindexed pages of my isindexed.com report, I can thus unlock new keywords. This develops my visibility, my traffic and therefore my turnover."
"For the past few months, the order "site:" doesn't always work, that's why it's necessary to check the indexing using other methods like searching forURL without commands."
QUESTIONS / ANSWERS (FAQ)
In the VERIFICATION TYPE column, what does the indexed URL information mean: command "site:" or "exact URL only"?
There are 3 steps in the indexation checking process (for only 1 credit):
Step 1: 
If a URL comes out indexed by doing a search with the command "site:" followed by your URL, then your URL is considered indexed. This URL will have in the column TYPE CHECK information: command: "site:"
Step 2: 
The "site:" command has been providing random results for several months and does not always display the information to know if the URL is indexed or not (even if a URL is positioned on keywords, it does not have always results with "site:").
To avoid this problem, we search for your URL without the command "site:". 
If your URL appears in the results when doing this search : this URL will have the information: "Indexed / exact URL only" in the column CHECK STATUS.
Note: in this step, we also perform the test on another Google datacenter IP address, because some URLs can appear as indexed on other datacenters. 
This case usually happens when the URL has just been indexed or is being de-indexed. This sometimes explains the differences between what you see and what the tool detects in advance on different data centers.
Step 3: 
If the URL was not detected as indexed in the previous 2 steps: we consider it not indexed. It will have the information: "Not indexed" in the column CHECK STATUS.
What does the Google Index Chercker Isindexed tool do?
The Google Index Checker is useful if you want to check which pages on your site are indexed by Google.
The tool allows for a list of URLs or domains to have indexing status on Google.
Some general information about indexing:
A page that is not indexed in search engines cannot get search engine traffic. You should have indexed pages.

A backlink on an unindexed page has no value.

Pages on your site can be de-indexed if Google considers the content is duplicated, similar or of low quality.
Can isindexed.com have fake results?
It happens that customers report possible cases of error to us. Most often, these are not errors but special cases:
Case number 1: A site: command may show a result, but this result is not the same as the added URL. In this case, the tool indicates that the URL is not indexed, because it does not match the URL you would like to check.
Case number 2 : This is an extremely rare case, but it happens that certain URLs are not indexed on all datacenters. To verify with certainty at 100% you can use the free tool we have developed https://seo-hero.ninja/. This tool allows you to check your positions live on a dozen datacenters, but it is also compatible with the "site:" command.
Does isindexed.com have an API?
Yes and the API is now free. Find the documentation directly in your Dashboard at https://tool.isindexed.com/docapi.
Can isindexed.com provide an invoice?
Yes, you will receive an invoice by email and you also have the option of retrieving it from your Isindexed account. All invoices respect the regulations for each country in terms of VAT to collect and transfer it to the country of each buyer (Since January 1st 2015).
What payment methods does isindexed.com offer?
We offer secure payments by credit card (VISA / MasterCard) or Paypal. Bank transfers are only available for partners.
Do you need a proxy to use IsIndexed services?
No, you don't need to add proxies like you might have with other tools.
On Isindexed.com, you simply add the URLs you want to check on indexing and you will get the result.
Does isindexed.com have an affiliate program?
No, we do not have affiliate programs. Our extremely low rates do not allow us to offer an affiliate program. We have preferred to provide the lowest possible price for our clients. We know that we will have less visibility without this marketing leverage, but we have made this choice. In order to attract customers, we rely on the quality of our service.
However, feel free to talk about us and the quality of our tools, we would be extremely grateful to you by offering you a small bonus ;)
What is the processing time for URLs?
When creating your project, you will have the first results in a few seconds. We process all ISindexed account projects in parallel for progressive results.
We can no longer give an exact estimate: this is very variable depending on the day, because it depends on the queue of users. To give you a URL, a site audit with 1000 URLs is processed in less than 4 minutes.
Why is the step with "inurl:" no longer available since October 2022?
Since some Google changes, we noticed that the search "inurl:" was no longer needed, as it was less efficient than a URL search without Google commands (since the October 2022 Google Update). 
Indeed, a URL search alone allows to detect indexed URLs where the site: or inurl: commands sometimes give no result (even though some URLs not detected with the commands are well indexed and are positioned on keywords).
It is for this reason that we replaced the search "inurl:" by finding the exact url in step 2. However, the command "site:" is obviously still processed in step 1.
Does your isindexed.com tool allow you to index pages / URLs?
The tool is specialized in managing the detection of indexed pages by creating unlimited projects. You also have the history of indexations for each project or for each URL.
The credits you purchase on isindexed.com essentially allow you to check the indexing status of URLs.
However, it is possible to add the API key of the indexmenow.com service to index the pages. IndexMeNow.com is the tool specialized in indexing pages. By adding this API key, you can then send and index your URLs directly from isindexed.com.
We added this functionality so that the user can simply send for indexing the pages or URLs that are not indexed in your projects. However, you must have an account on indexmenow.com, to retrieve the API key and have sufficient credits.