Rates without subscription down to $0.001 per URL tested
(1 credit = 1 URL indexing check)
1 URL indexing check performs 3 indexing checks for the price of one:
URL indexing check with the "site:" command
URL indexing check with the "inurl:" command
URL indexing check on another Google datacenter
Tea API is FREE. (Documentation on https://tool.isindexed.com/docapi)
Our service also shows you if a url has been declared with a DMCA complaint (and therefore not indexed for this reason)
Compatible search engines for indexing checks with the "site:" command
Specialized indexing test tool
Presentation of the tool isindexed.com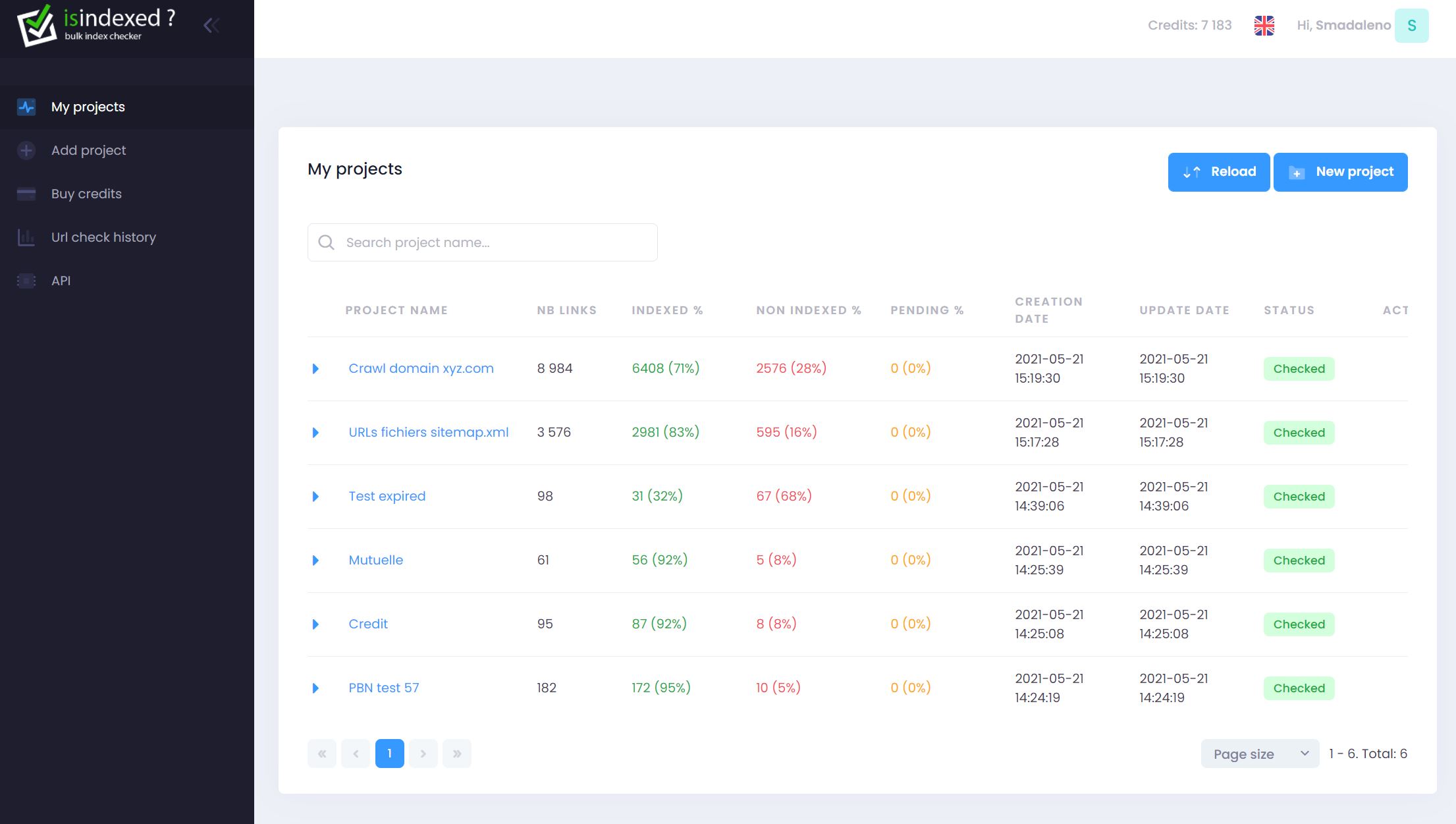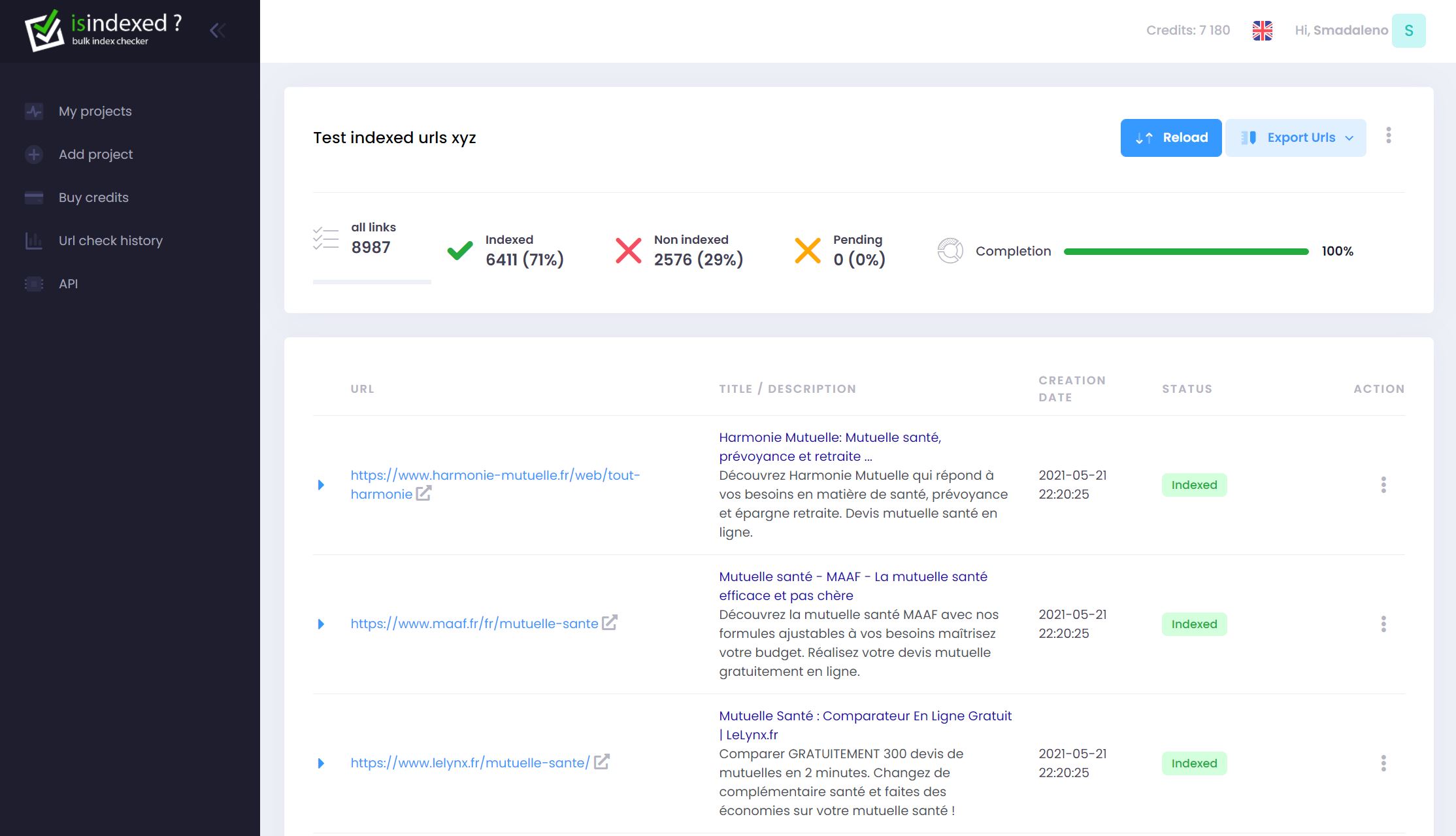 Benefits of the isindexed.com tool
Rugged technology
Searching for results with the "site:" command is 4 to 5 times more complicated than a SERP search for a keyword. Our technology now allows you to recover its information in bulk without blockages.
Rates down to $0.001 per URL
Choose the number of credits to buy and get indexing checks down to $0.001 per indexed URL test. Tea cheapest and most powerful tool specialized in indexing checks on the market.
Simple pricing
We use the "pay per use" pricing model. Your credits do not expire at the end of the month. You don't pay for unused credits.
Exportable reports
You can export the indexing results of your projects in a CSV file. You will find in your CSV file the listing of tested URLS with project name, title tag, meta description tag, dates and if the url is indexed or not.
No need to use proxies
you do not need proxies to check indexing status of your website pages! No more blacklisted proxies. Just add your URLs and get the results.
NEW: DMCA testing
You now have information on whether a URL is unindexed due to a DMCA complaint on lumendatabase.org. Be aware that if your URL has a DMCA complaint, it is no longer indexed. You must respond or dispute the complaint to reindex your URL.
Examples of using web-instrument ISindexed 
"I can make a quality and complete audit for a client. After a complete crawl with, for example, ScreamingFrog, XENU, OnCrawl, Seolyzer… I check the web-pages to know if they are indexed or not. The idea is to understand why some pages are not indexed. Is it a recent page? Page with low quality content? Page with a technical problem? "
"I can retrieve URLs from sitemap.xml to do a follow up of indexed or not indexed URLs."
"I can check the list of indexed backlinks before purchasing expired domains. Backlinks on unindexed pages have no value.."
It happens quite often that Google de-indexes pages for various reasons: poor quality texts, duplicated content, url in error, penalized site, blacklisted site. With isindexed.com, I can follow the evolution of the number of indexed URLs thanks to a tracking by project."
"I can audit sponsored articles or partner link exchanges to check if the URLs are indexed or not."
"An unindexed page brings no traffic on search engines. By indexing the unindexed pages in my isindexed.com report, I can thus unlock new keywords. This develops my visibility, my traffic and therefore my revenue."
10 000 credits
0.0039 $* per check
Without subscriptions
Without commitment
* price without tax
50 000 credits
0.00298 $* per check
Without subscriptions
Without commitment
* price without tax
200 000 credits
0.002 $* per check
Without subscriptions
Without commitment
* price without tax
1 000 000 credits
0.001 $* per check
Without subscriptions
Without commitment
* price without tax
What does the Google Index Searcher Isindexed tool do?
The Google index checker (soon the search engines Bing and Yandex) is useful if you want to check which page of your site is indexed by Google.
The tool allows for a list of URLs or domain to have the indexing status on Google.
Some general information about indexing:
A page that is not indexed in search engines cannot get traffic from search engines. You must have indexed pages.

A backlink on a non-indexed page has no value.

Pages on your site can be de-indexed if Google deems the content to be duplicate, similar or low quality.
How does isindexed check the indexations of URLs or domains?
We simply use the command "site:" followed by your URL or domain to check if the URL or domain is indexed on Google.
Does isindexed.com have any false results?
Sometimes customers come back to us with possible cases of false errors.
Case number 1: A "site:" command may show a result, but the result is not identical to the added URL. While the tool displays that the URL is not indexed, as it does not match the URL you want to test. However, thereor have an option that allows you to have a positive result if a test returns at least one indexed URL  You need to check in your project the option "Show the first "site:" result and treat it as positive even if it doesn't exactly match the tested URL".
Case number 2: This is an extremely rare case, but sometimes some URLs are not indexed on all datacenters. To check with 100% certainty you can use the free tool we developed https://seo-hero.ninja/. This tool allows you to check your live positions on a dozen datacenters, but it is also compatible with the command "site:". In addition we have implemented a function that allows you to

reperform

an indexing check of a url already tested on another datacenter.
Do isindexed has an API?
Yes and the API is now free. Find the documentation directly in your Dashboard on https://tool.isindexed.com/docapi.
Can Isindexed provide an invoice?
Yes, you receive an invoice by email and you also have the possibility to retrieve it from your Isindex account. All invoices respect the regulations for each country regarding VAT to collect and pay it to the country of each buyer. (Since January 1, 2015).
How to become a partner of isindexed to get an API and a price lower than 0.001$ per url tested?
To become a partner, you must contact us through the partner contact form and explain your project. A custom development as well as an API can be proposed to you.
To become a partner, you must at least justify an expenditure of $2000 per year.
Partners have several benefits:
premium support with integration help of your API

Dedicated processing threads

HAS rate of less than 0.001 per URL tested
A custom APIs
What payment methods does isindexed offer?
We offer secure payment by Credit Card (VISA / MasterCard ) or Paypal. Transfers are only possible for partners.
Do we need proxies to use isindexed service?
No, you don't need to add proxies as may be the case with other tools.
On Isindexed.com, you simply add the URLs you want to test if indexed or not and then see the results.
Does Isindexed have an affiliate program?
No, we do not have affiliate programs. Our extremely low rates do not allow us to offer an affiliate program. We prefer to offer the lowest possible rate.. We know we will have less visibility without this marketing leverage, but we made this choice. We rely on the quality of our service to attract customers.
However, feel free to talk about us and the quality of our tools, we would be extremely grateful to you by offering you a small gift 😉
What is the time frame for processing URLS?
When creating your project, you will get the first results in a few seconds. We process all ISindexed account projects in parallel for progressive results.
However, to give you a better idea, processing a 1000 URLS project is processed in 3 minutes.
Also be aware that partners with APIs have priority processing with a load that is not spread across all projects.